If the memory of scrubbing baseboards or thoroughly sanitizing surfaces for your small business feels distant, it might be the perfect time to consider hiring a janitorial service. At Golden Rule Cleaning & More, Inc. in St. Charles, MO, our detail-oriented cleaning staff specializes in providing top-notch janitorial cleaning for businesses of all sizes. Whether you need weekly, monthly, or seasonal cleaning services, we've got you covered. Discover the numerous benefits of our janitorial services as we dive deeper into what sets us apart. Keep reading to find out how we can transform the cleanliness of your business space and create a healthier, more inviting environment for both employees and customers..
Decreases Stress for Employees
Your employees, believe it or not, are under a lot of stress to complete their daily tasks; the last thing they need is to worry about a messy breakroom or dirty floors. At Golden Rule Cleaning & More, Inc. in St. Charles, MO, we specialize in janitorial services that keep your business running smoothly while decreasing stress for your employees. Our maids ensure that your employees' most used areas are spotless before leaving your workplace and even go the extra mile to organize and declutter any areas that may create unease or stress. You can rely on us to maximize your productivity with reliable janitorial cleaning services!
Improves Business Image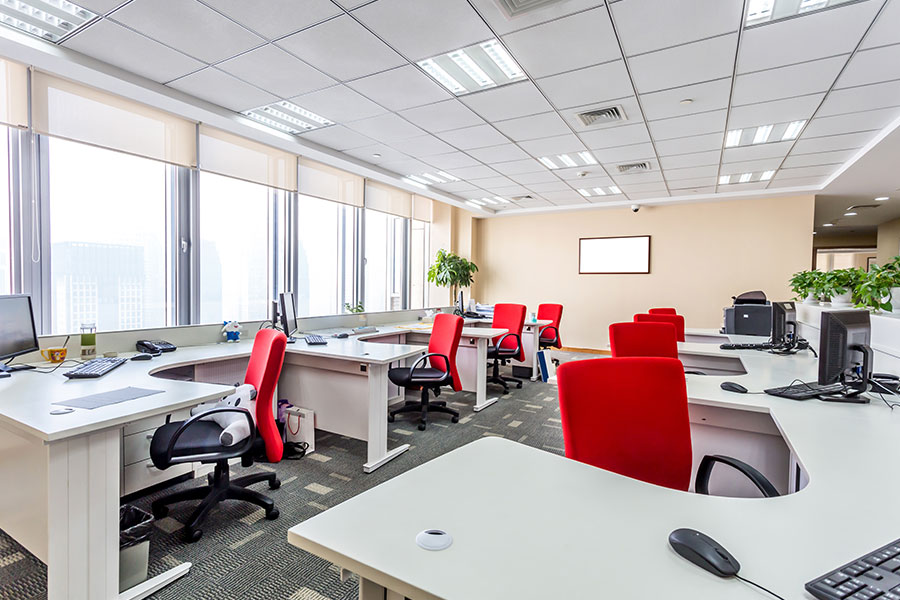 Whether you own a law firm or a construction company, your office space where you do business with your customers is the first place an impression is made, so the last thing you want is a negative image due to poor cleaning. Thankfully, Golden Rule Cleaning & More, Inc. in St. Charles, MO, is here to ensure your business image never fails with our janitorial cleaning services. A janitorial service includes everything from sweeping and mopping your floors to cleaning the dust and dirt off your surfaces. Let us keep your business's image afloat with weekly, monthly, or seasonal janitorial services.
Reduces Allergens
Allergens are one of the most common issues in workplaces that do not have a regular cleaning schedule set in place. Bacteria buildup and mold growth are everyday occurrences of excessive allergens and can cause everything from a common cold to severe sickness that is unhealthy for your customer and employees. Our janitorial cleaning services in St. Charles, MO, are proven to reduce and even eliminate allergens from your workplace entirely, thanks to our eco-friendly cleaning solutions and in-depth cleaning schedule. Call Golden Rule Cleaning & More, Inc. today, and we will walk you through our step-by-step process for eliminating harmful allergens from your workplace.
All Services Are Customizable
One of the best reasons you need janitorial cleaning services for your small business in St. Charles, MO, is because our services are entirely customizable. Although we don't conform to a standardized list of cleaning services, we work with our clients to find what their business needs to create a unique cleaning schedule for our maids to follow. So whether you want us to focus on your employee bathrooms or scrub every inch of the desks and chairs, we're here to help you achieve the look and feel you want out of your business. So call us today at 314.375.4688 to schedule a janitorial service from our experts at Golden Rule Cleaning & More, Inc.!