In these uncertain times, maintaining a clean and safe home has become more important than ever. At Golden Rule Cleaning & More, our team of experienced maids in St. Charles and St. Louis, MO understands the significance of a pristine living environment. With our top-notch deep cleaning solutions, we provide you with the peace of mind you deserve, as our products are specifically designed to combat COVID-19 and eliminate harmful bacteria. Discover why our cleaning products are the perfect weapon in the fight against the virus by delving into the details below. Don't wait any longer—schedule your first cleaning service with us today!
Kills the Virus Without Using Harsh Chemicals
While some store-bought chemicals are made with good intentions to safely clean your home, some are marketed to look beneficial but don't get rid of the bacteria you're trying to eliminate. Our maids at Golden Rule Cleaning & More in St. Charles and St. Louis, MO have extensive training when it comes to handling powerful cleaning products and using them on your most-used surfaces. Our eco-friendly products have been tested and are proven to kill the COVID-19 virus and other bacteria in your home without the repercussions of using harsh chemicals.
Protects Your Surfaces
The last thing you want from a cleaning product is for the harsh chemicals to tear right through your hard surfaces. Many cleaners on the market today that you can find in your local grocery store recommend the use of protective gloves, masks, and even eyewear to protect from the fumes – what do you think those fumes are doing to your surfaces? Our cleaning products at Golden Rule Cleaning & More are tested and proved to be completely safe for your home and surfaces. Contact us today for a quality cleaning service for your St. Charles and St. Louis, MO home!
Safe When in Contact with Skin
One of the most important factors to consider when buying a cleaning product for your home is safe. Whether you have children or animals, the last thing you want is for them to get into a cleaning product that is harmful to the skin. Our cleaning products at Golden Rule Cleaning & More in St. Charles and St. Louis, MO are skin-safe, creating an atmosphere for you and your family to feel clean and protected. We offer general and deluxe cleaning services depending on your needs so reach out to us today to schedule your first or reoccurring cleaning service.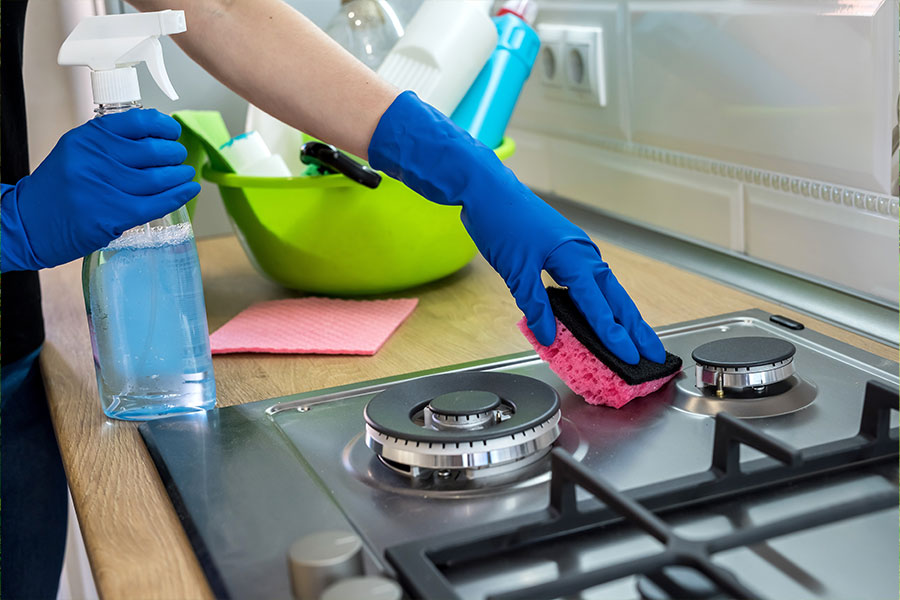 Long-Term Cleaning Solution
Cleaning products are not beneficial if they are not keeping your surfaces free of bacteria. Many store-bought products are temporarily effective, leaving your surfaces at risk an hour or so after use. To prevent COVID-19 bacteria from entering your home and becoming harmful to your family, invest in our expert maid cleaning services at Golden Rule Cleaning & More. We have been serving St. Charles and St. Louis, MO area keep their homes free of COVID-19, call today at (314) 375-4688.