So, you're interested in hiring a maid service for your home or business in the St. Charles, MO area? Golden Rule Cleaning & More, Inc. is one of the highest-rated professional maid cleaning services in the area with dozens of 5-star ratings and cleaning packages to choose from. While we highly recommend our experienced staff for any cleaning job, we realize how important it is for our customers to feel confident in their maid service before choosing to hire one of our own. That's why we have put together some of the top questions to ask any residential and commercial cleaning service before making a final decision. Keep reading below to discover important questions to ask your professional maid service.
How Long Have You Been in Business?
Asking a potential maid service how long they have been in business is a great first question to start with to get a feel for the experience a company possesses. It takes a lot more than basic cleaning and disinfecting skills to properly clean a home or business. If the company you are speaking with says they have been in business for under or a little over a year, this is not always a bad sign, but you should expect the experience to match the results of a service. At Golden Rule Cleaning & More, Inc., all of our staff are trained and highly experienced in professional cleaning, giving you the best possible results on all of our basic, general, and top to bottom cleaning packages.
Have Your Employees Completed A Prescreening?
It may seem intrusive to ask this question at first, but it is highly recommended to ask any service that is going to be taking place in your home or business if the staff has undergone a prescreening test before employment. At Golden Rule Cleaning & More, Inc., all of our employees have completed a required background check screening to ensure they fit within the professionalism and standards of our company. Always make sure that the maid service you choose has reliable and hardworking employees that you can trust.
Do You Offer Workers Compensation Insurance?
This is another great question to ask your potential maid service! A company that provides workers compensation to its employees is not only thinking about potential risks that can take place on the job but they are also focused on ensuring the safety and protection of both their employees and clients. If a cleaning staff somehow becomes injured while working in your home or business, you will want to know what steps your professional maid cleaning service will take to protect everyone involved.
What Kind of Training Do Your Employees Go Through?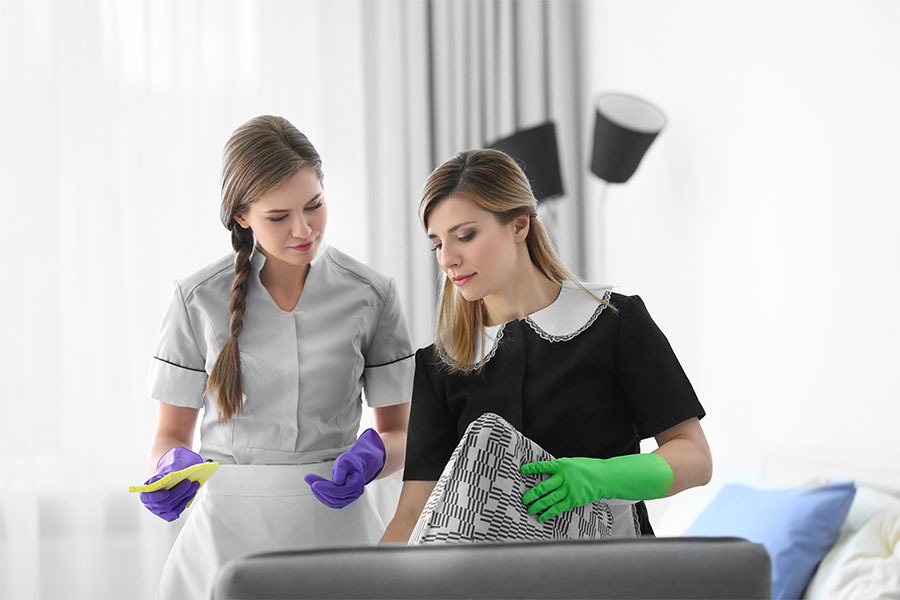 Last but not least, ask your maid service about the training that their staff goes through before stepping foot in your home or place of work. At Golden Rule Cleaning & More, Inc. we give intensive training to all our employees on both residential and commercial cleaning expectations to ensure that your property is always left in perfect condition. If one of our staff members is training, we will be sure to include two cleaning specialists for every job until they are experts at every one of our cleaning services.
Interested in hiring cleaning professionals for your home or business? Contact us through our website or call our St. Charles, MO line: (314) 375-4688.